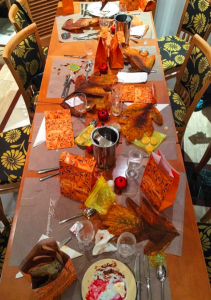 Many thanks to the leader of our Greece team for this beautiful shot of their Thanksgiving dinner this year.
She put it best when she wrote, "It's certainly not the most elegant "tablescape," but this Thanksgiving dinner was messy and memorable in the best possible ways. So grateful for this family and for the families who lent them to me this week."
We are incredible grateful for the time our team got to spend serving and loving in Greece this week. Thank you so much for your prayers and continued support. Have a blessed holiday!